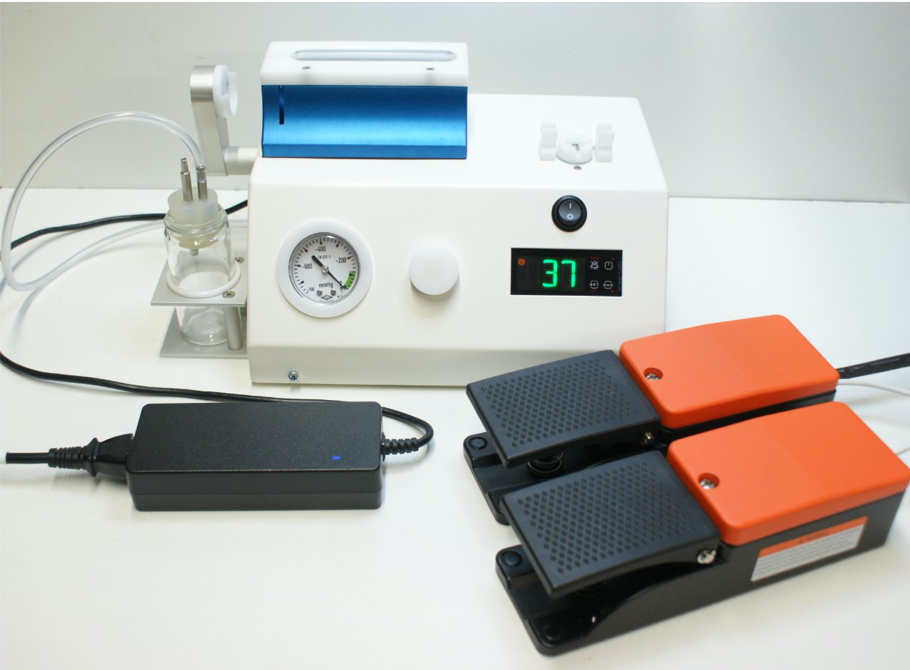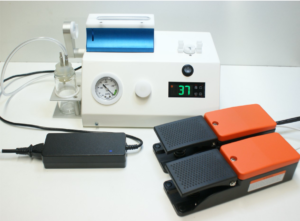 The Steiner Combi Pump is the first patented electronic pump worldwide combining aspiration and flushing in 1 device. It can be used with any Double Lumen Needle on the market or with Steiner-Tan Needles.
The Steiner Combi Pump is the product of IVF experience since 1988.
The pump is compatible with the "HSW 50 ml Norm Ject" syringe or another syringe with exact same dimensions.
Several syringes, which have been filled with flushing medium, are pre-heated in an incubator at 37°. A syringe is clicked into the PTC heating element of Steiner Combi Pump.
As soon as the syringe is empty, there will be an acoustic signal sound, indicating that the syringe must be changed.
Performance indicators:
• Constant temperature control of flushing medium in a range from 35 – 37°; manually adjustable.
• The operator controls the timing, pressure, amount and flow rate of the flushing medium by means of the pedal.
Key Features
Physician can activate a pedal and choose the velocity and amount of fluid during aspiration and flushing.
A warming element guarantees constant temperature of flushing fluid at 37°
DL Needles: just connect flushing tubing at syringe. Mechanism of 3 Way Stop Cock at pump in position OFF.
Steiner-Tan Needles and Steiner-Tan Needles Classic: 3 way Stop Cock of Steiner-Tan Needles to be clicked at pump. Flushing tubing to be clicked at syringe.
An electric motor turns 3 way valve 90° during flushing.
This motor can be switched off for flushing IVM follicles simultaneously during aspiration. ("pulsatile flushing" with Steiner-Tan Needle 21gauge or 19gauge) or during use of DL Needles
To use with any Double Lumen Needle on the market or Steiner-Tan Needle 17, 19 or 21 gauge or Steiner-Tan Needles Classic 17 or 19gauge.
Are you interested in the Steiner Combi Pump?
Get in Touch with Us